The site of the former Bath BBQ restaurant will become a local meat supplier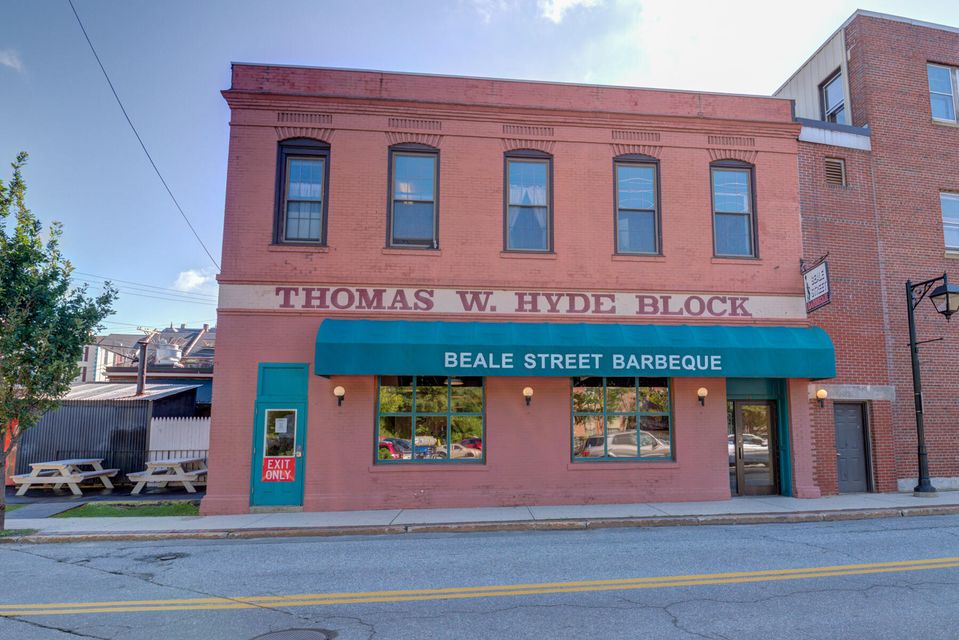 The site of the former Beale Street Barbeque in Bath is being renovated to reopen under new ownership as Kennebec Meat Co.
Michael and Rebecca Quigg sold 215 Water St. to Scott Raymond for $647,000.
The transaction was initiated by Sean Ireland of Windward Development and brokered by Mandy Reynolds of the Magnusson Balfour team of Keller Williams Commercial and Steven Chicoine of Keller Williams Realty.
"It's been quite an adventure," said Raymond, who worked on the deal with his wife Michelle and son Jordan.
The building dates from the 19and century and is located in the historic district of downtown Bath.
It prominently bears the Thomas W. Hyde Block inscription.
Hyde (1841-1899) was the founder of what is now Bath Iron Works.
old bbq
For the past 25 years the building has housed the Beale Street BBQ.
"It was May 17, 1996, when Beale Street Barbeque & Grill first opened the doors and immediately slammed more guests into us than we could handle," wrote Quigg, owner of the restaurant and restaurant. property, in a recent blog post.
He continued: "Went out after lunch and cried a little tear then quickly came back and reset for dinner service which went incredibly well."
Quigg closed the restaurant on December 19.
"I know my restaurant closure is sad for a lot of people, but it's not for me," he wrote. "It was way too good to be sad."
Premium meat
The space is being renovated to reopen as Kennebec Meat Co.
Courtesy / Kennebec Meat Co.
Shown here is a composite of the property with a Kennebec Meat Co. sign.
Raymond told Mainebiz that the new venture combines his business experience with his son Jordan's butchery experience. His other son, Dylan, is a graphic designer and created the logo and will manage the website and social media presence.
"So it's really a family business," he said.
Scott Raymond is regional senior vice president of a medical diagnostic imaging company called RAYUS Radiology. The company is headquartered in Minneapolis, Minnesota, but Raymond works remotely from his home in Georgetown.
Jordan Raymond worked in digital marketing in California until two years ago when he moved back to Maine and started working at a butcher shop in Portland.
Last summer Jordan moved to Woolwich, a town above Bath, and father and son began talking about setting up a new business that would fill a niche in the local market.
"My wife and I really like the premium beef and groceries," Scott said. "We found ourselves having to travel quite a distance to find them."
Given his son's experience and the lack of a high-end supply store in the Bath area, they thought there was a market opportunity.
"We felt there was a strong need in our area," he said. "I live in Georgetown, so Bath is the nearest big city, if you will. We're here all the time and we love the community.
Family and friends were enthusiastic about the idea. The downtown location was perfect for their needs, Raymond said. The purchase was financed by the Bath Savings Bank.
"I spent all my summers growing up in Maine and lived there permanently for seven years," he said. "Bath city center is a bit buzzing. The vibe you get there is awesome.
With Jordan on board to handle the business side of running the shop, they needed a head butcher. So they brought in Patrick Tweedie, who previously worked at Rosemont Market in Portland and has experience butchering whole animals.
Courtesy / Kennebec Meat Co.
Left to right, Patrick Tweedie, Chief Butcher and Deputy General Manager of Kennebec Meat Co., with the company's General Manager, Jordan Raymond, and Owner, Scott Raymond.
"I use my business background and my son uses his background to combine and create what we hope will be a unique experience in Maine, which is premium meat and other groceries and a high level of customer service. ", said Raymond. "I learned in my business that if you do it right, you can be very successful."
Cutters and grinders
The space was essentially move-in ready, aside from the installation of equipment, some of which is out of stock until early March.
"We're not going to change much on the inside other than making it appropriate for our business," Raymond said.
Work is also underway to create a website, signs and banners.
Courtesy / Kennebec Meat Co.
Dylan Raymond created the logo.
The old restaurant was equipped with dishwashers and cooking appliances. The new kitchen equipment will include cutting and preparation tables, grinders and a refrigerated warehouse. In the retail area, there will be meat crates, open crates for ready meals, and retail shelves for sauces, condiments, etc.
The two-story building totals approximately 4,500 square feet. The store will occupy the ground floor. The second floor is a vacant apartment that will be renovated to be compatible with a high-end residential lease.
The investment in minor space modifications for the ground floor space plus equipment is expected to be close to $200,000. Funding will be through personal funds and probably an equipment loan.
Supply will be through local farms and wholesalers, Raymond said.
"We develop a network through our contacts and at farmers' markets and we reach out and find local people and farms that make really delicious food," he said.
The plan is to source processed products, as well as wholesale meats for uses such as making sausages at the store and butchering for retail.
The opening date has not yet been set, but the goal is sometime in April.
"The goal is to leverage our respective skill sets with a strong focus on local sources," Raymond said. "We believe there is a niche for people who love and appreciate and will pay for high-end, unique items."