Involta ranked sixth in Best in KLAS 2022 report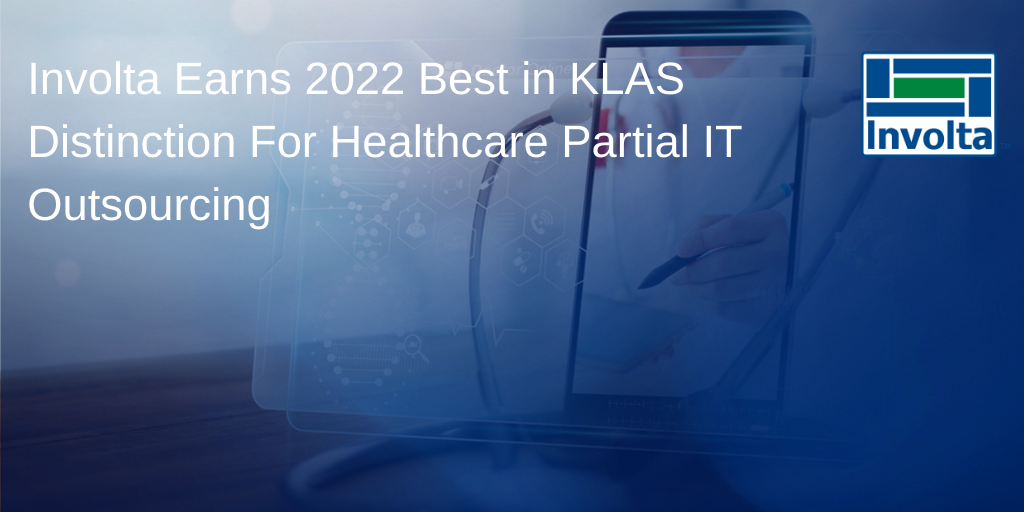 Again in the headlines, Involta recently announced that it was featured in the 2022 Best in KLAS report of the Partial IT Outsourcing Category. The designation, published in the 2022 Best in KLAS: Software and Services report by research and analytics firm KLAS, recognizes providers who excel in providing healthcare with the technology and support needed to improve care. to patients.
At the head of KLAS
Ranking sixth on the partial IT outsourcing list with a 92.6 the overall performance score signifies Involta's proven expertise and impact in this critical sector. Notably, the company received outstanding performance ratings in several key areas, with 100% of survey respondents acknowledging that "Involta exceeds expectations."
"Our team's dedication to innovation and solving complex healthcare challenges continues to prevail, from developing cutting-edge solutions to support regulatory frameworks to providing unparalleled customer service. We are honored to be ranked and thank our customers for providing their excellent unbiased ratings and for trusting Involta to meet their dynamic business needs, critical data and digital transformation," said Jim Buie , president of Involta.
Next-generation health informatics
Involta's Healthcare IT Suite includes innovative data center services that support healthcare platforms, including:
Precision medicine

EMR Hosting

CAP/imaging

Data analysis

Telemedecine

Several electronic health record applications
Healthcare represents 38% of Involta's business, reaching 13 states and growing, supporting more than 12,000 physicians and 7.4 million visits annually.
The most secure solutions in healthcare IT and an industry-focused board of directors
In 2021, the company introduced Involta SecureHealth℠ to protect healthcare platforms and data by integrating managed detection and response services. Its PULSE℠ platform is a suite of custom IT services hosted in Involta's fully redundant, SOC 2 audited data centers with colocation availability exceeding HIPAA and industry standards. In addition, Involta's Healthcare Advisory Board plays a critical role in advancing the company's healthcare mission.
To learn more about Involta's healthcare IT services, visit involta.com/industries/healthcare. For Involta's full Best in KLAS announcement, click here.