Delivery Mileage Defenders For Sale | Articles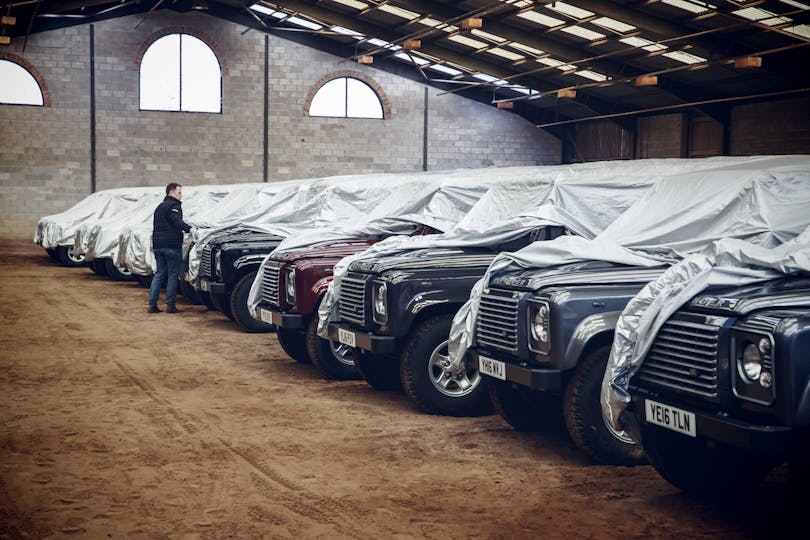 A batch of 13 new Defenders from the last weeks of production is put on the market.
Each of the six-year-old Land Rovers has been in dry storage since leaving Solihull. They all still have between 10 and 20 miles on the odometer which ensures they all remain in pristine condition. All are premium XS models with 90 and 110 wheelbases, in Corris Grey, Indus Silver, Santorini Black or Montalcino Red.
The Defenders are part of a batch of 240 that Twisted Automotive purchased from Land Rover as production ceased on January 29, 2016. All were registered after the factory line closed. Nearly 200 have been modified and sold to customers since then, but now is the time to refine the collection further, says Twisted boss Charles Fawcett. "Our workshop is sold out for a year or more and I've always thought I'd love to give some to individuals as they are – so it makes sense to sell them now."
How fresh are they?
Although the Defenders are currently unmodified, they will require a slight degree of modification before sale, in order for Twisted to fulfill a contractual obligation to Land Rover. This may be limited to a power upgrade, wheel or suspension work, adding around £2000 to the listed price (see below).
Although not on the road, all delivery mileage Defenders have been regularly started, cleaned and serviced. They also all received replacement fuel pumps, Charles explains. "They've had half a tank of fuel this whole time, and when we serviced them last October, we noticed that one or two of the fuel pumps in the tank were just starting to have gremlins, we in So we replaced 60. them at a time. They've all had some love and are good to go.
What are delivery mileage Defenders really worth in 2022?
When purchased from Land Rover in 2016, these Defenders would have been worth between £30,000 and £35,500. Today, they are expected to fetch about double, even after adjusting for inflation. Including VAT, they are priced between £69,600 for the 90 XS Hard Tops and £88,800 for the 110 XS Station Wagons.
While these valuations may seem exaggerated, take a look at recent auction results. The are buyers willing to spend that kind of money. Last September a 2016 Defender 90 XS with 107 miles on the clock fetched just over £61,000. Two months later, a 2016 Autobiography Edition 90 with 180 miles set the auction record for very late delivery mileage Defenders, reaching £77,063. Even so, those mileages are still beaten by this latest batch of 13.
The 20-mile 110 XS Utility Wagon which fetched £75,900 at this summer's Goodwood Festival of Speed ​​comes second in the auction standings. This vehicle also came from the stable of Twisted.
Any other assessment is debatable and would depend on the continued dry storage of the vehicles. But anyone who did could not benefit from tax incentives that could make the purchase price easier to swallow in the first place. Charles says: "I think they would suit someone with a business that has legitimate use of a Land Rover workhorse. They will use the current 130% tax relief on capital investments in the first year, then use the vehicle carefully and buy it back from the company a few years later.
All 13 Defenders have N1 commercial status.