A search committee is appointed for the university's next chief financial officer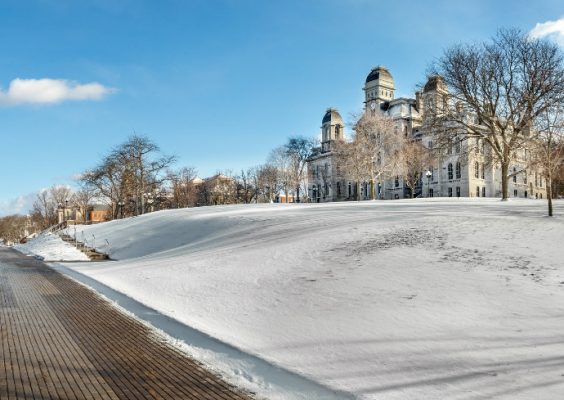 Campus & Community
Syracuse University Chancellor Kent Syverud today announced the members of the University's new chief financial officer (CFO) search committee. The new Chief Financial Officer will report directly to the Chancellor and provide strategic leadership for critical financial and administrative functions.
"While the pandemic has certainly brought challenges and changes to academia across the country, Syracuse University is financially strong and well positioned for continued growth," Chancellor Syverud said. "Our next CFO must be an outstanding senior administrator who can take the reins and ensure our resources are prioritized to support our academic vision and a most promising future."
Chancellor Syverud, who will chair the search committee, hopes to have the new CFO in place by the start of the fall 2022 semester. Members of the search committee include:
Steven Barnes '82, Chairman Emeritus, Board of Directors
Gretchen Ritter, Vice Chancellor, Provost and Director of Studies
J. Michael Haynie, Vice Chancellor for Strategic Initiatives and Innovation
Candace Campbell Jackson, Senior Vice President and Chief of Staff
Elisabeth "Lisa" Fontenelli '86, Chair of the Board Finance Committee and Chair of the Whitman Advisory Board
Professor Emily Stokes-Rees, Director of the School of Design, College of Visual and Performing Arts
The new CFO will succeed Gwenn Judge, who currently serves as interim senior vice president and chief financial officer.