4 Effective Ways to Clear Amazon Prime Video Viewing and Search History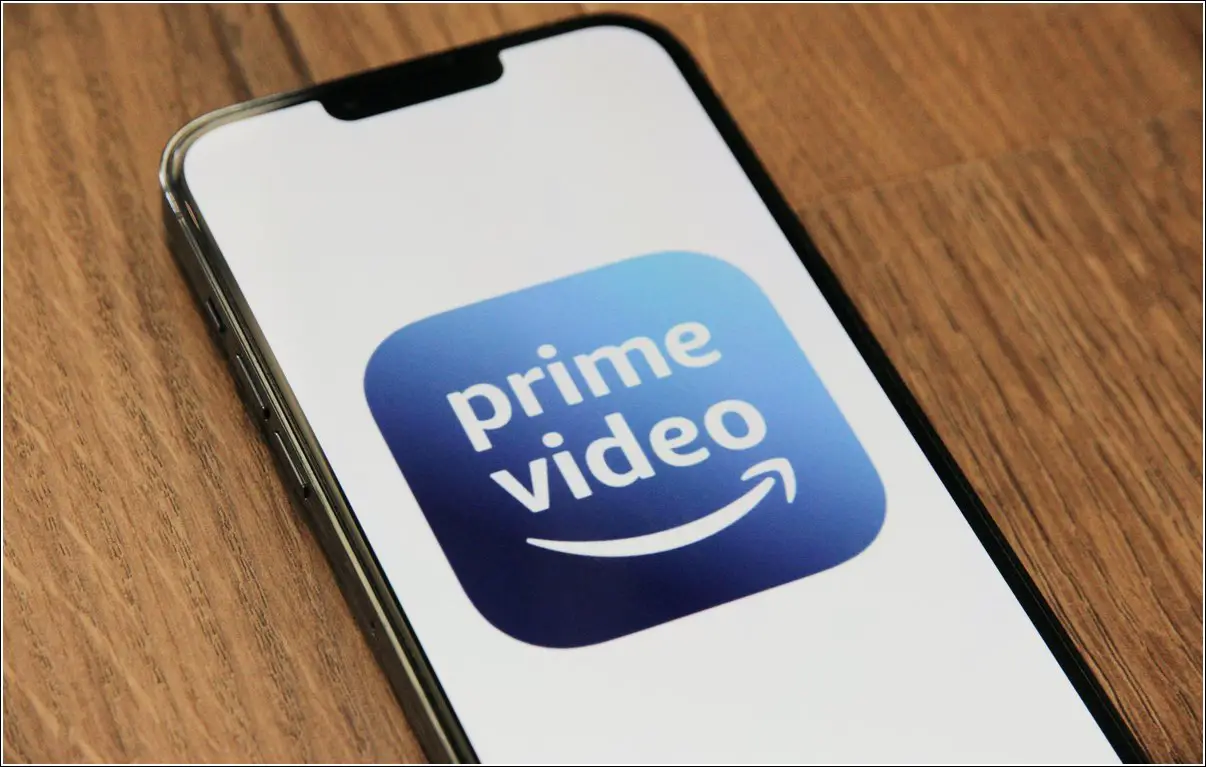 Let's be honest, we all share our streaming accounts for Netflix and Prime Video with our best friends and family. While this is certainly an easy way to save a few bucks, it usually ends up with unwanted content recommendations based on search or viewing history on one's shared profile. To get rid of this situation easily, you can learn how to clear watch and search history on Amazon Prime Video. Meanwhile, you can also learn how to delete Netflix watch history. Read on as we discuss effective ways to clear Prime Video watch and search history.
Ways to Clear Amazon Prime Video Viewing and Search History
Clear Prime Video Viewing History Using Account Settings
1. Access the Prime Video Website in a new web browser tab and sign in with your associated Amazon account.
2. Next, click on your profile icon in the upper right corner and press the Accounts and Settings ability to configure it.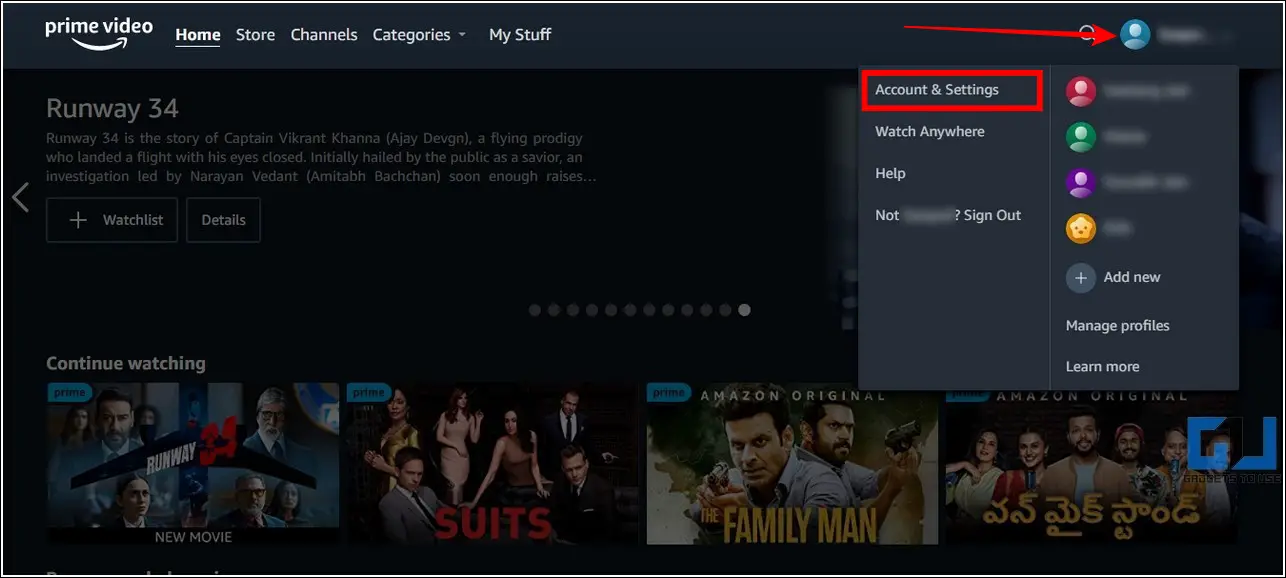 3. Next, navigate to the Viewing history and review the list of your watched content to remove it.
4. To remove a movie/episode from the watch history, click the 'Delete Movies/Episodes from Watch History ' link.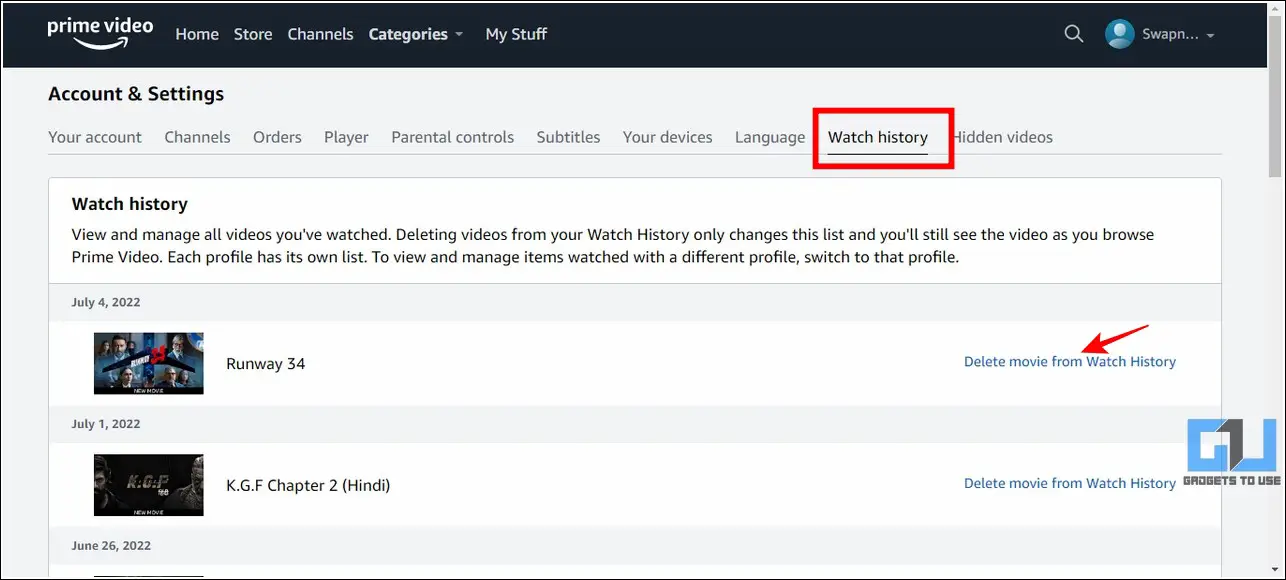 5. The content you chose will be removed from your profile on Prime Video. However, it may take a few days for the content to be completely deleted from your profile history to exclude it from recommendations.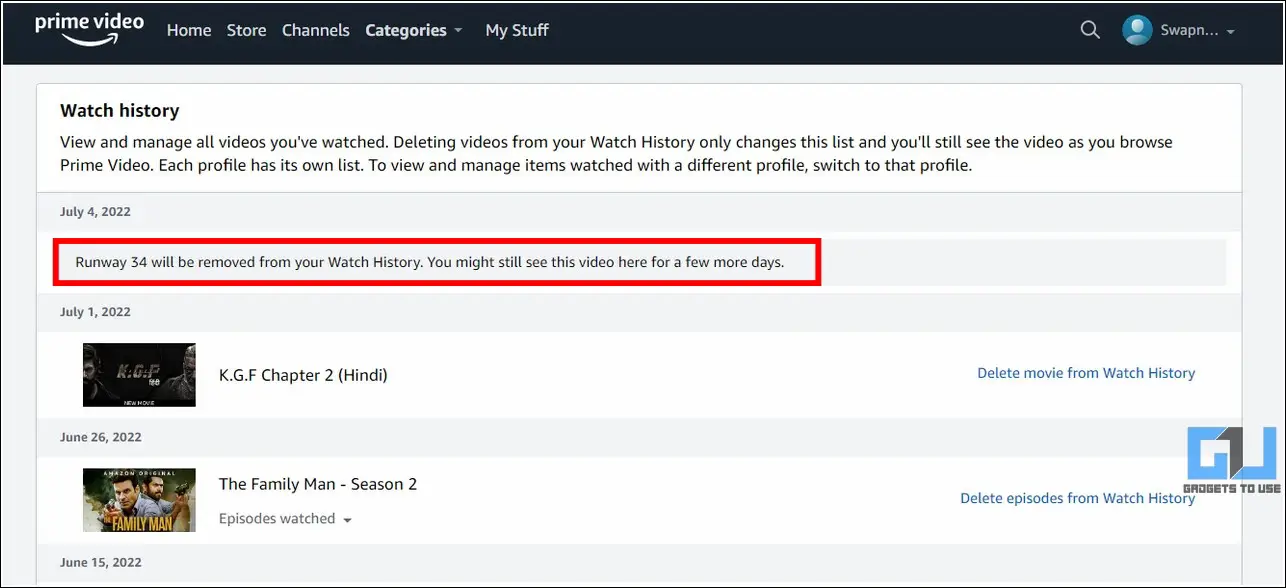 Remove Watched Content from Home Screen Banner
Another effective way to remove watched/searched content from your Prime video profile is to remove items from the "Continue Watching" section. Here's how you can achieve the same result:
1. Open your Prime video account and locate the section titled 'Keep watching '. This section offers a carousel view of all the movies and TV shows you have watched/watched on your Prime video profile.
2. Next, click on the Edit button in the far right corner of this section.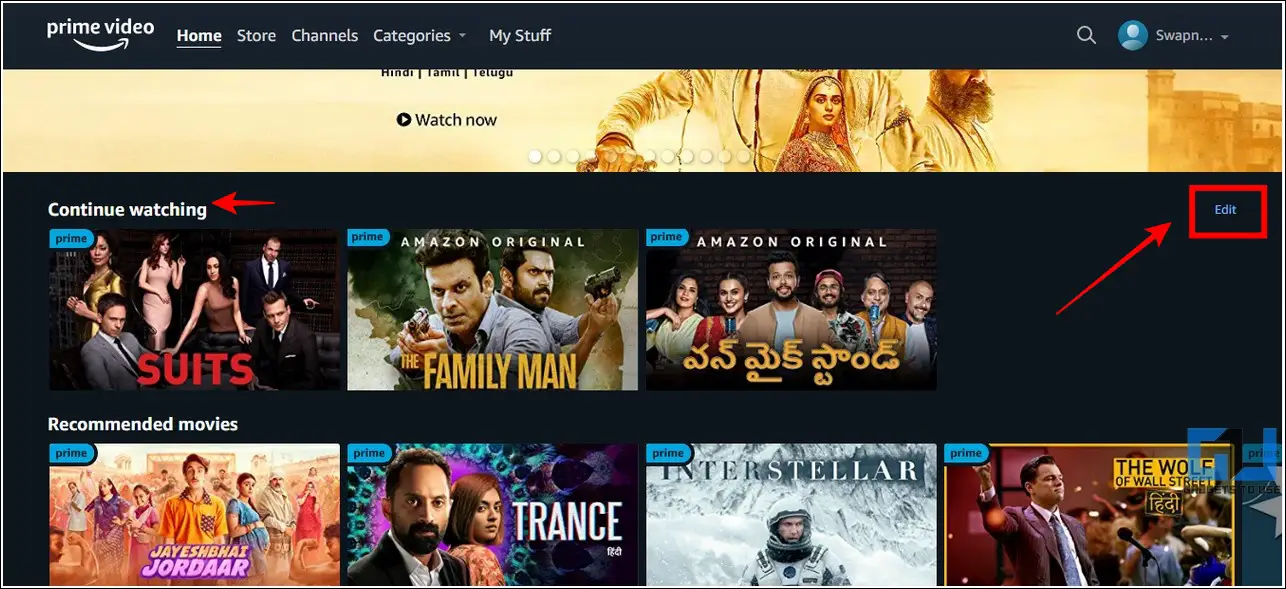 3. Next, click the X button superimposed on top of the desired content to remove it.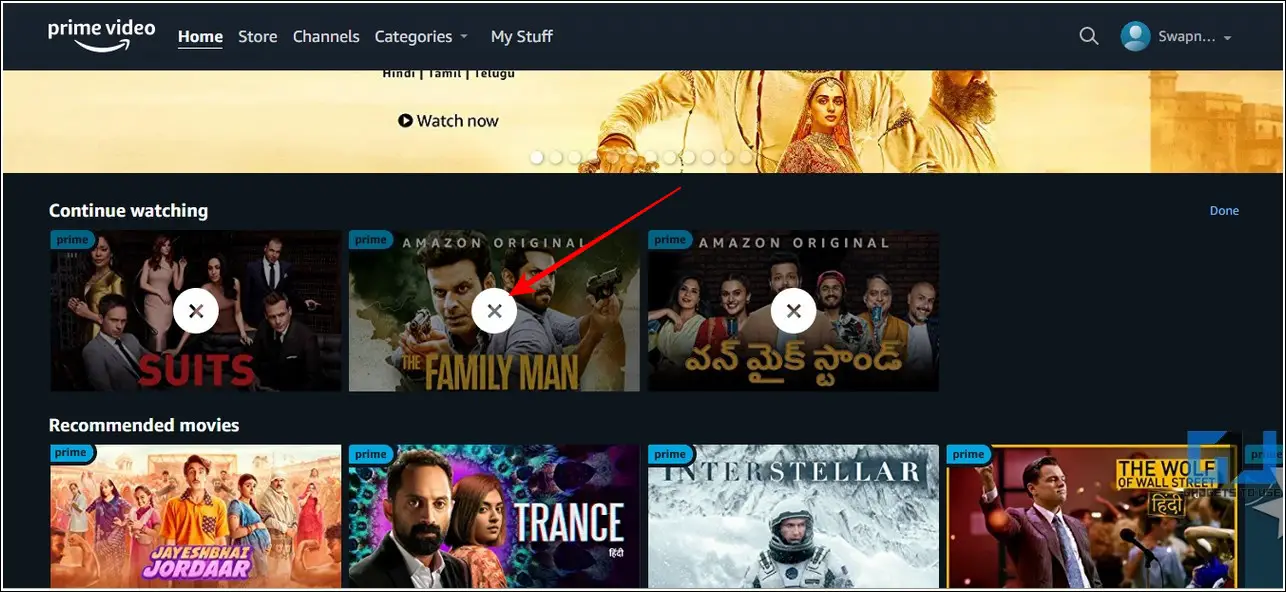 4. Deleted content will be instantly cleared from the "Continue Watching" list and will no longer be part of future viewing recommendations.
Clear watchlist to reset recommendations
In addition to viewing history and searched text, Prime Video also provides new content recommendations based on items saved to your profile's watchlist. You can remove and clear items from this list to get rid of unnecessary content notifications on Prime Video. Here's how you can achieve this:
1. Open Prime Video in a new tab of your web browser and sign in with your associated Amazon account.
2. Next, click on the My Stuff tab located at the top to access all the items saved in your wishlist.
3. Hover your mouse cursor over the content you want to delete and click on the Remove from wishlist icon to delete it.
4. That's it, you have successfully removed the desired content from your profile wishlist. If you change your mind, you can click the Cancel button to restore it to your Prime Video profile.
Clear Video Watching History on Prime Video Using Mobile Devices
If you are accessing Prime Video on your smartphone and want to clear the search history associated with your profile, you must follow the steps below. These are applicable to both Android and iOS devices.
1. Open the Prime Video app on your mobile device and tap the My stuff tab in the lower right corner.
2. Next, click on the Gear icon located at the top right to open the app settings.


3. Scroll down to locate Clear video search history option and tap it to delete all video search history related to your profile.
That's it. This will effectively delete the entire search history on your profile to prevent further related recommendations based on your search listing.
Bonus Tip: Cancel Premium Channel Subscriptions on Prime Video
Now that you have learned how to clear the search and watch history associated with your Amazon Prime Video profile, you should learn how to lighten your budget by canceling your subscription for premium channel subscriptions. Follow this quick read to learn how to cancel premium channel subscriptions on Prime Video.
FAQs
Q1: Can you delete a show from the Continue Watching section on Prime Video?
Yesyou can easily hide or delete the desired show from your Amazon Prime Video account by following the second method given above.
Q2: Can you remove hidden videos and shows from your Prime Video account?
Yesyou can go to the Hidden Videos section in your Prime Video account settings to easily erase them.
Q3: Can you collectively delete your entire watch history?
Unfortunately no, Prime Video does not provide an option to collectively delete the entire watch history with one button. You have to manually review and delete each movie/episode from the viewing history to clear it.
Q4: Do different Prime Video profiles have their own viewing/search history?
Yeseach profile on Amazon Prime Video has its own separate list of search and viewing history.
Q5: Can you clear Prime Video playback history without logging into your Amazon Prime account?
Unfortunately noyou will not be able to access or delete any of your watched content without logging into your Prime Video account.
Recap: No More Irrelevant Recommendations
We hope you have now learned how to clear watch and search history on Amazon Prime Video using the methods given above. If this detailed read helped you fix irrelevant recommendations by deleting content history from your account, hit the Like button and share it with your friends to help them personalize their Prime Video profiles. Subscribe to our Twitter account @gadgetstouse for more quality updates.
You might be interested in:
You can also follow us for instant tech news at Google News or for tips and tricks, reviews of smartphones and gadgets, join GadgetsToUse Telegram Group or for the latest review videos, subscribe GadgetsToUse YouTube channel.